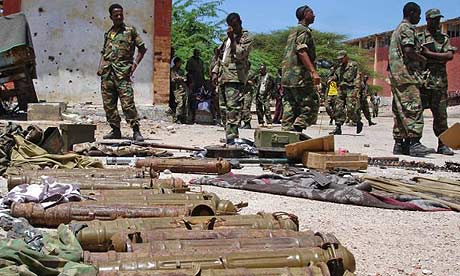 The US "war on terror" has backfired, strengthening extremists in Afghanistan and Somalia and turning them into legitimate political actors in the eyes of their local populations, a thinktank said today.
The Senlis Council, which has strongly criticised US policy in Afghanistan in the past, is particularly scathing of the Bush administration's "abject policy failures" in Somalia.
It said air strikes, support for Ethiopian troops that attacked Somalia last year and the ill-timed designation of a radical Islamist group, al-Shabab, as a terrorist group had been successfully exploited by the insurgency to boost recruitment.
"The lack of strategic acumen present in the 'war on terror' in Somalia and Afghanistan is in fact enabling the spread of the insurgencies present throughout both countries," said Norine MacDonald QC, the council president.
"The US is the common denominator in both countries – instead of containing the extremist elements in Somalia and Afghanistan, US policies have facilitated the expansion of territory that al-Shabab and the Taliban have psychological control over."
Aid groups say Somalia, wracked by anarchy and violence for decades, is suffering its worst humanitarian crisis since 1993.
Militias linked to the former Islamic Courts authority, which controlled Mogadishu in the latter half of 2006, are waging a guerrilla war against the occupying Ethiopian troops and the weak central government. With a small African Union peacekeeping force reduced to the role of bystander, several thousand civilians have been killed in the crossfire since early 2007.