The Huffington Post
, June 26, 2010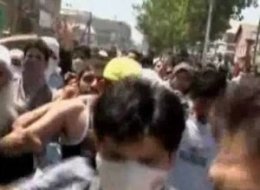 A protest in Kashmir turned deadly when troops open fired on hundreds of demonstrators on Sunday, killing one person and wounding at least five, the Associated Press reported.
Hundreds of people took to the streets, throwing rocks at security forces and surrounding an armored vehicle belonging to paramilitary soldiers, in a protest against the death of Mohammed Rafiq Bangroo, a 25-year-old who died Saturday after being beaten by troops in an earlier demonstration last week. After the demonstrators tried to light a bunker on fire, the officers fired as an act of self defense, authorities say.
"We exercised maximum restraint. Our soldiers opened fire only in self-defense after the protesters tried to torch the bunker," Prabhakar Tripathi, spokesman for the Central Reserve Police Force, told the AP. Tensions in the Muslim-majority region have been running high since local police accused the military of killing three civilians in April, and officials now say they are clamping down by enforcing a tight curfew and other restrictions.
See video of the protest here:
Tags: protest in Kashmir, Mohammed Rafiq Bangroo killed, demonstrations in Kashmir