Former prime minister attacked by anti-war protesters in Dublin as he promotes memoirs

Henry McDonald,
The Guardian/UK
, Sep 4, 2010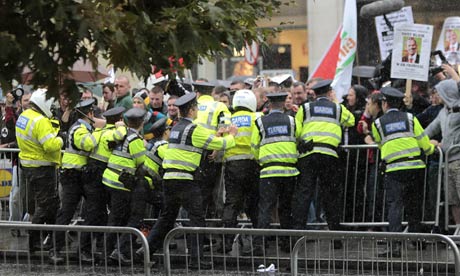 Tony Blair's first signing of his memoirs in Dublin descends into violence as anti-war protesters clash with Gardai. Photograph: Niall Carson/PA
Skirmishes broke out between protesters and police at the first public signing for Tony Blair's memoirs, with shoes and eggs hurled at the former prime minister.
Four men were arrested and charged with public order offences for their part in the protest this morning outside Eason's bookshop on O'Connell Street in Dublin, Ireland, which involved anti-war demonstrators and the Continuity IRA-aligned Republican Sinn Féin, who oppose the Northern Ireland peace process.
A Garda spokesmen said the four men – two in their late teens and two in their mid-30s – were released from custody and will appear before Dublin district court on various dates later this month.
Gardai had earlier dragged a number of demonstrators off the street and during the fracas a male protester in a wheelchair was knocked to the ground.
Protesters shouted "Whose cops? Blair's cops!" as they taunted the gardai while Blair remained inside the bookshop. They also shouted: "Hey hey Tony hey, how many kids have you killed today?"
Continues >>