Turkish victims ask international criminal court to pursue Israeli gunmen over raid on ship

Afua Hirsch, legal affairs correspondent,
The Guardian
, Oct 8, 2010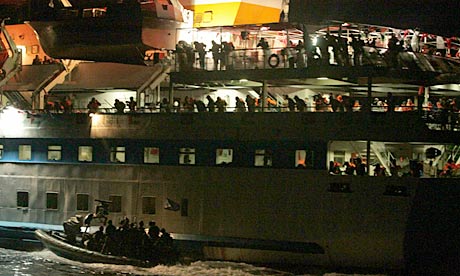 Israeli navy commandos intercept the Mavi Marmara on its way to break the Gaza blockade
Israeli navy commandos intercept the Mavi Marmara on its way to Gaza in May. Photograph: Kate Geraghty/Sydney Morning Herald/Getty Images
The international criminal court is being urged to prosecute members of the Israeli defence force for the raid on a Gaza-bound aid ship. Turkish victims have formally requested an investigation, the Guardian has learned.
Lawyers acting for Turkish citizens injured or killed when Israel intercepted the flotilla in May have written to Luis Moreno Ocampo, the court's prosecutor, claiming there is an "overwhelming" case for prosecution.
The request is a significant step towards a criminal investigation by the court, which experts say has jurisdiction to prosecute those involved in the raid despite Israel not recognising its jurisdiction.
"The attack on the flotilla occurred in international waters, which directly violated many parts of international law as well as international public and criminal law," said Ramazan Ariturk, a partner at Elmadag Law Office, the Turkish legal body that is representing the Turkish victims and the human rights group IHH. "The crimes committed by Israeli Defence Forces should be prosecuted and the International Criminal Court is the sole authority which is able to do that."
There is mounting pressure on Israel after a UN report into the incident, in which nine Turkish activists were killed, accused Israel of violating international law.

Continues >>