Family criticises decision to allow soldier who drove bulldozer that killed daughter to give evidence from behind screen
Harriet Sherwood in Jerusalem,
The Guardian
, Oct 20, 2010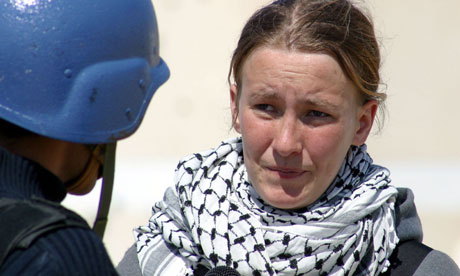 American peace activist Rachel Corrie being interviewed in the Rafah refugee camp in Gaza Strip a few days before she was killed by a bulldozer. Photograph: Getty Images
The Israeli soldier at the controls of a bulldozer that crushed to death 23-year-old Rachel Corrie in Gaza in March 2003 is due to give evidence tomorrow in the civil lawsuit brought by the American activist's family.
However the judge hearing the case in Haifa has ruled that, for security reasons, the soldier can testify anonymously from behind a screen, denying Cindy and Craig Corrie the opportunity to face the man who directly caused their daughter's death.
Israel's supreme court refused to hear an appeal by the family challenging the judge's ruling. However, the unit commander in charge that day will testify in full view of the court as his identity is already known.

Continues >>