Our sole contribution to Muslim states wrestling with self-determination is plunging their neighbours into bloodbath and chaos
Simon Jenkins, The Guardian, Feb 1, 2011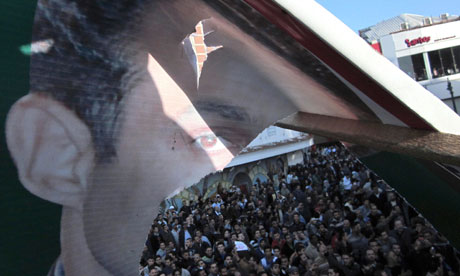 Protesters demonstrate near a torn picture of Gamal Mubarak, son of Hosni Mubarak, in Alexandria on January 25. Photograph: Reuters
We are hypocrites. We cheer on the brave
Tunisians
and
Egyptians
as they assert the revolutionary power of the street. Hands off, we cry. Let them do it their way. It has taken a long time, but let the people get the credit and be strengthened thereby.
We gave no such licence to the Iraqis or Afghans. We presumed it was our job to dictate how they should be governed. We accused their leaders of crimes and decided to punish them all, massacring thousands. We declared a "freedom agenda", and bombed them to bits.
Hosni Mubarak of Egypt is another Saddam Hussein, a secular dictator ruling a Muslim country with a rod of iron through a kleptocracy of cronies. Less wealthy than Saddam, he had to rely on American support, but he was only a little more subtle in his ruthlessness.
We are told that there were sound strategic reasons for supporting Mubarak – as there once were for supporting the Ba'athists, Assad of Syria and Saddam himself. There were similar reasons for backing the
Ben Ali
dynasty in Tunisia and "Britain's good friend", the outrageous Colonel Gaddafi of Libya. All offered a supposed bulwark against Muslim extremism, a monster of which Americans and Britons are told to show a pathological, all-consuming and costly terror. Now, apparently, that no longer applies to Egypt.
Continues >>