Democracy activist Liu Xianbin has already served 10 years in prison for subversion
Associated Press,
The Guardian
, March 25, 2011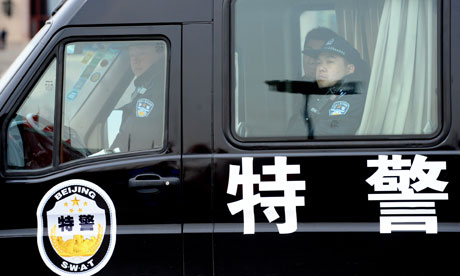 Chinese police monitor Tiananmen Square. Authorities want to stamp out unrest inspired by uprisings in the Arab world. Photograph: Goh Chai Hin/AFP/Getty Images
A Chinese democracy activist has been sentenced to 10 years in prison for advocating government change in online articles.
The trial came amid a crackdown on activism in
China
that may reflect government anxiety about unrest inspired by uprisings in the Middle East and North Africa. Dozens of well-known Chinese lawyers and activists have vanished, been interrogated, held under house arrest or criminally detained for subversion.
Activist Liu Xianbin, who has previously spent a decade in prison, was found guilty of inciting subversion of state power by the Suining intermediate people's court in Sichuan province after a trial that lasted a few hours, his wife, Chen Mingxian, said.
Chinese law says inciting subversion carries a penalty of up to five years in prison, but a court can impose a longer sentence if the offence is deemed particularly grave.
Chen said she and Liu's elder brother were allowed to attend the trial. She said her husband was calm and composed and looked relatively well, but that the judge frequently interrupted Liu and their lawyer's attempts to present a defence.
"The 10-year sentence to me, because we've already been through 10 years … is a repeat of the painful process, one in which I can only watch and wait anxiously," said Chen, who is a schoolteacher. The couple have a 13-year-old daughter.
Continues >>