Reports of many killed as marchers take to streets, plus confrontations in Jordan, Yemen and Bahrain
Katherine Marsh in Damascus,
Tom Finn
in Sana'a and
Martin Chulov
in Beirut
The Guardian, March 26, 2011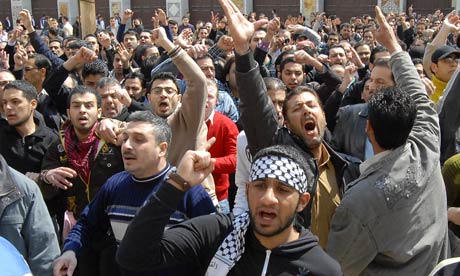 Protesters shout anti-government slogans after Friday prayers at Omayyad mosque, in Damascus, Syria. Photograph: Muzaffar Salman/AP
Demonstrations in the Syrian capital, Damascus, and elsewhere were met with force as security forces struggled to contain unrest that had begun in the southern city of Deraa a week ago.
Thousands once again joined funeral processions in Deraa on Friday, chanting: "Deraa people are hungry, we want freedom."
Hundreds took to the streets in the cities of Homs, Hama, Tel and Latakia and in towns surrounding Deraa, with smaller protests in the major cities of Damascus and Aleppo, which are more firmly under the watch of security forces. Troops reportedly opened fire in some cases.
There were reports that at least 23 people had been killed, some of them in Damascus, hitherto unaffected; the reports could not be independently verified. Amnesty International put the death toll around Deraa in the past week at 55 at least.
Protests in the capital are rare and not tolerated by the Ba'athist regime. A witness told the Guardian that efforts at protests in Damascus were broken up by plain-clothed agents using batons.
Continues >>