Iranian Nobel peace prize winner Shirin Ebadi writes to UN human rights commissioner over treatment of Sunni minority
Saeed Kamali Dehghan,
The Guardian
, April 18, 2011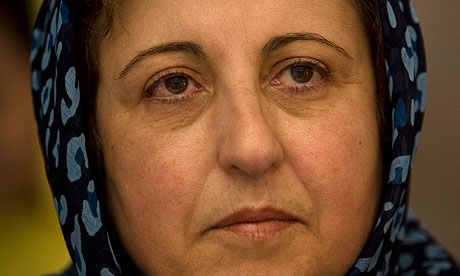 Nobel peace prize laureate Shirin Ebadi wrote to the UN commissioner for human rights over the treatment of the Sunni minority in Iran. Photograph: Caren Firouz /Reuters
At least 12 people who are believed to belong to
Iran
's Sunni minority have been killed in clashes between security forces and anti-government protesters in the south-western city of Ahwaz since Friday.
On Monday, Shirin Ebadi, Iran's
Nobel peace prize
laureate, wrote a letter to the UN high commissioner for human rights, in which she said "more than 12″ Sunni protesters had been killed in Iran's oil-rich province of Khuzestan, home to many Arabic-speaking Sunni Iranians.
According to Ebadi, hundreds of people in Ahwaz had gathered for a peaceful demonstration against the Islamic regime's discrimination towards its Sunni minority.
Continues >>