This protest pinpoints how dysfunctional our economic system is: we must refashion it for human needs, not corporate aims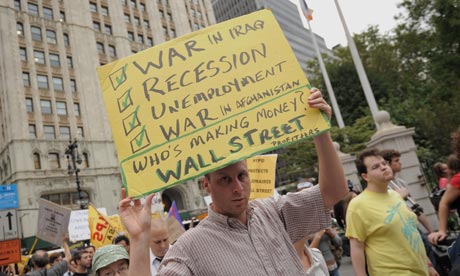 A man holds up an anti-Wall Street placard on the march to NYPD headquarters. Photograph: Stan Honda/AFP/Getty Images
Occupy Wall Street
has already weathered the usual early storms. The kept media ignored the protest, but that failed to end it. The partisans of inequality mocked it, but that failed to end it. The police servants of the status quo over-reacted and that failed to end it – indeed, it fueled the fire. And millions looking on said, "Wow!" And now, ever more people are organising local, parallel demonstrations – from Boston to San Francisco and many places between.
Let me urge the occupiers to ignore the usual carping that besets powerful social movements in their earliest phases. Yes, you could be better organised, your demands more focused, your priorities clearer. All true, but in this moment, mostly irrelevant. Here is the key: if we want a mass and deep-rooted social movement of the left to re-emerge and transform the
United States
, we must welcome the many different streams, needs, desires, goals, energies and enthusiasms that inspire and sustain social movements. Now is the time to invite, welcome and gather them, in all their profusion and confusion.
Continues >>