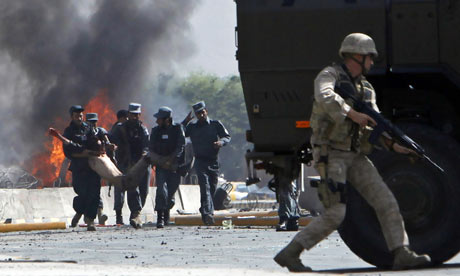 Afghan police help injured civilians after a suicide bomb attack in Kabul on Tuesday. Photograph: Reuters
A commission backed by the UN yesterday declared it had "convincing evidence of fraud" in Afghanistan's elections and called for a recount of suspect ballots.
The announcement came as the count put President Hamid Karzai over the 50% threshold necessary to avoid a runoff and win re-election. With more than 90% of the votes counted, Karzai was ahead of his main challenger, Abdullah Abdullah, by 54% to 28%.
Tags: Afghanistan's elections, fraud, Kunduz air strike, President Hamid Karzai, UN-backed Electoral Complaints Commission