Former UN official demands investigation into coalition link to deaths revealed by WikiLeaks

Mark Townsend,
The Observer
, Sep 26, 2010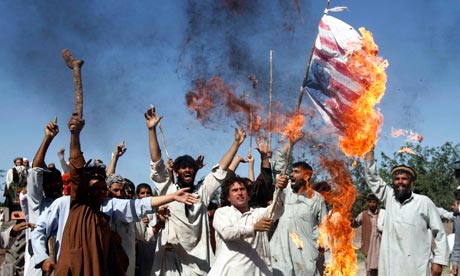 An angry crowd burns a makeshift U.S. flag as they accuse NATO forces of killing civilians in an overnight raid, at Surkh Rod, Afghanistan, last May. Photograph: Rahmat Gul/AP
A United Nations investigation into alleged war crimes in Afghanistan should be launched to identify and prosecute individuals responsible, says a former top-ranking UN official on extrajudicial killings.
Philip Alston called for the UN Human Rights Council to investigate the "conduct of the war" in Afghanistan amid rising concern over the level of civilian casualties caused by coalition forces, including Britain, and by the Taliban. It should be modelled, he said, on the inquiry into Israeli military operations in the Gaza Strip.

Continues >>