Wounded patients flooding into hospitals, says Red Cross, while fighting is stopping the sick getting basic medical care

By Peter Beaumont,
The Guardian
, Oct 13, 2010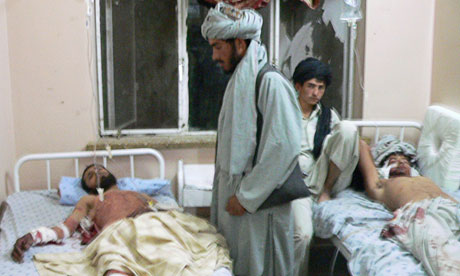 Victims in hospital after an explosion at a wedding in Kandahar. Photograph: Nosrait Shoaib/AFP/Getty Images
The number of Afghan civilians hospitalised for serious war wounds has doubled in 12 months in Kandahar, the focus of an ongoing US-led campaign against Taliban strongholds.
In August and September, Mirwais regional hospital in the country's second biggest city admitted almost 1,000 new patients with weapons injuries, according to the International Committee of the Red Cross.
The total for the same period of 2009 was 500.
The Red Cross reported a "drastic increase" in the number of amputations from war injuries, reflecting the nature of the violence.
Afghan and Nato forces launched Operation Dragon Strike to retake strongholds in the insurgency's heartland around Kandahar from the Taliban. But the area had already been the focus of escalating military operations for weeks. There are now about 30,000 international troops in the southern Taliban heartlands of Helmand and Kandahar provinces.
Continues >>