Booker prize-winner says claim about territory not being an integral part of India was a call for justice in the disputed region

Gethin Chamberlain in Panaji,
The Guardian
, Oct 26, 2010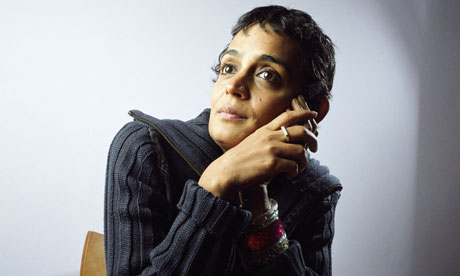 The Booker prize-winning novelist and human rights campaigner Arundhati Roy is facing the threat of arrest after claiming that the disputed territory of Kashmir is not an integral part of India.
India's home ministry is reported to have told police in Delhi that a case of sedition may be registered against Roy and the Kashmiri separatist leader Syed Ali Shah Geelani for remarks they made at the weekend.
Under Section 124A of the Indian penal code, those convicted of sedition face punishments ranging from a fine to life imprisonment.
Roy – who won the Booker in 1997 for The God of Small Things – is a controversial figure in India for her championing of politically sensitive causes. She has divided opinion by speaking out in support of the Naxalite insurgency and for casting doubt on Pakistan's involvement in the 2008 Mumbai attacks.
But in a statement the 48-year-old author, who is currently in Srinigar, Kashmir, refused to backtrack. "I said what millions of people here say every day. I said what I, as well as other commentators, have written and said for years. Anybody who cares to read the transcripts of my speeches will see that they were fundamentally a call for justice.
"I spoke about justice for the people of Kashmir who live under one of the most brutal military occupations in the world; for Kashmiri Pandits who live out the tragedy of having been driven out of their homeland; for Dalit soldiers killed in Kashmir whose graves I visited on garbage heaps in their villages in Cuddalore; for the Indian poor who pay the price of this occupation in material ways and who are now learning to live in the terror of what is becoming a police state."

Continues >>