By Larbi Sadiki,
Al Jazeera
, Nov 4, 2010

The blockade imposed on Gaza is a powerful psychological device aimed at wringing concessions from Gazans and Hamas.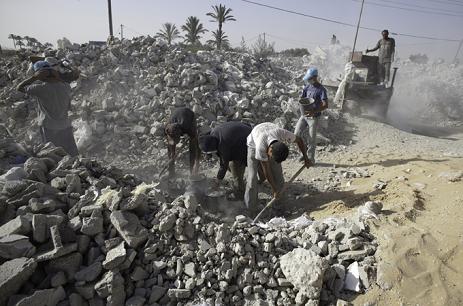 Life in Gaza has been reduced to relying on
human ingenuity and improvisation [Getty]
Gaza "the giant open prison" are not the words of Hosni Mubarak, the Egyptian president. Nor were they scripted by Hamas' Khaled Mishaal or Fatah's Mahmoud Abbas. They belong to David Cameron, the young and charismatic British prime minister.
Since the imposition of the Gaza blockade nearly four years ago, no single European leader has voiced moral outrage over the sanctions with such alacrity, simplicity and forcefulness. His words have reverberated widely in Gaza as well as elsewhere in the Arab world.
Like Cameron's words, the untold misery shatters the international political society's quasi silence and questions the immorality of indifference and inaction towards the blockade.
Gazans need to reclaim their state of dignity and humanity before reclaiming the seemingly illusionary hope of a Palestinian state. A peek inside the 'big prison' reveals the blockade to be multi-layered – affecting economy, polity, diplomacy and security.
Continues >>