The president's order for indefinite detention of 'war on terror' suspects marks continuity with Bush-era disdain for legal norms
Karen Greenberg,
The Guardian
, Dec 22, 2010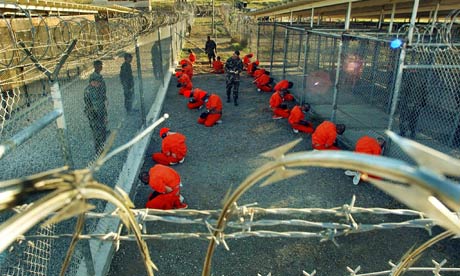 Detainees held at the Guantánamo Bay detention centre. Photograph: Shane T McCoy/AFP/Getty Images
The Obama administration,
ProPublica's Dafna Linzer first reported
, is about to issue an executive order that gives shape, contour and future life to indefinite detention for Guantánamo detainees. The order will provide for the continual detention of several dozen detainees – who will have access lawyers in order to periodically contest their detention.
On one level, we shouldn't be surprised. In what has become a signature method of the Obama administration, the bad news was trotted out as an idea well ahead of time. In May of 2009, President Obama let it be known that indefinite detention was among the options that the administration would likely embrace in its efforts to close Guantánamo. Now, as their calculation may have predicted, what was once an unsavoury idea barely causes a ripple in the fabric of public opinion. Overshadowed by the continuing focus on the economy, and reflecting a growing callousness towards civil liberties issues in the "war on terror", the public will likely greet the announcement with numbness.
Continues >>