PJ Crowley says Pentagon is being 'ridiculous and stupid' by subjecting WikiLeaks suspect to punitive conditions in jail
Ed Pilkington in New York, The Guardian, March 11, 2011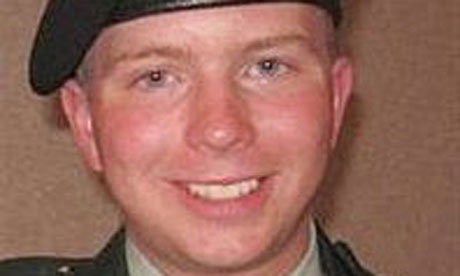 Bradley Manning is facing multiple charges relating to his alleged releasing of state secrets. Photograph: EPA
Hillary Clinton
's spokesman has launched a public attack on the Pentagon for the way it is treating military prisoner
Bradley Manning
, the US soldier suspected of handing
the US embassy cables
to
WikiLeaks
.
PJ Crowley, the assistant secretary of state for public affairs at the US state department, said Manning was being "mistreated" in the military brig at Quantico, Virginia. "What is being done to Bradley Manning is ridiculous and counterproductive and stupid on the part of the department of defence," he said.
Crowley's comments signal a crack within the Obama administration over the handling of the WikiLeaks saga in which hundreds of thousands of confidential documents were handed to the website.
As news of the remarks rippled through Washington, President Obama was forced to address the subject of Manning's treatment for the first time.