Raymond Davis flown to US airbase after payments made to relatives of men shot dead by intelligence agent in Lahore
Declan Walsh
in Islamabad and
Ewen MacAskill
in Washington
The Guardian
, March 16, 2011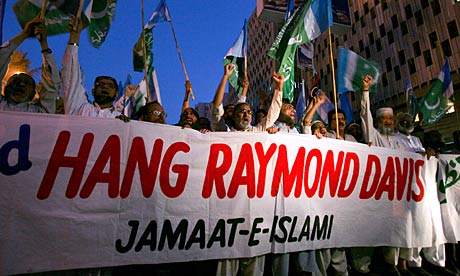 Jamaat-e-Islami party supporters hold a protest against the release of Raymond Davis, in Karachi. Photograph: Fareed Khan/AP
Raymond Davis, the
CIA
spy charged with murder in
Pakistan
, has flown out of the country after the relatives of two men he killed dropped charges in exchange for "blood money" of at least $2.3m (£1.4m) and help in resettling abroad.
Davis slipped out of Lahore on a special flight from the old city airport after being released from the sprawling jail where he had been held for almost 10 weeks amid a diplomatic storm that rocked relations between the two allies and sucked in President Barack Obama.
A Pakistani official said the 36-year-old US spy was bound for an airbase in Afghanistan, then on to the US.
Davis was freed under Islamic laws that allow a murderer to walk free on payment of compensation to the family of his victims. The acquittal took place during a closed hearing at Kot Lakhpat jail where no reporters were present.
Continues >>