Victims' complaint to the international criminal court accuses Pope Benedict and three others of failing to prevent abusers
Karen MeVeigh,
The Guardian
, Sept. 13, 2011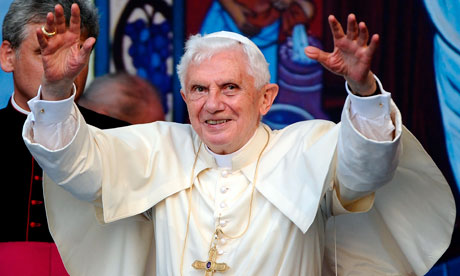 Pope Benedict XVI, who has been cited in a complaint to the international criminal court. Photograph: Vincenzo Pinto/AFP/Getty Images
Victims of sexual abuse by Catholic priests have accused the pope, the Vatican secretary of state and two other high-ranking Holy See officials of crimes against humanity, in a formal complaint to the
international criminal court
(ICC).
The submission, lodged at The Hague on Tuesday, accuses the four men not only of failing to prevent or punish perpetrators of rape and sexual violence but also of engaging in the "systematic and widespread" practice of concealing sexual crimes around the world.
It includes individual cases of abuse where letters and documents between Vatican officials and others show a refusal to co-operate with law enforcement agencies seeking to pursue suspects, according to the Centre for Constitutional Rights (CCR), a US-based organisation that represents the claimants.
Continues >>