Palestinian Authority accuses Congress of holding back aid to punish Mahmoud Abbas' bid for UN statehood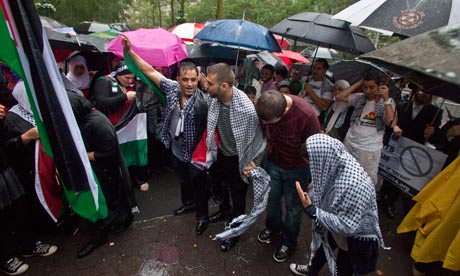 A group of Palestinians rally in New York while President Mahmoud Abbas calls for the UN to formally recognise the Palestinian state. Photograph: Gary Dwight Miller/ Zuma Press/Corbis
The Palestinian Authority has accused the US of "collective punishment", after the US Congress blocked $200m (£128m) in
aid
in response to
President Mahmoud Abbas' bid for UN statehood.
The decision to freeze the payments was reportedly made by three congressional committees on 18 August, before Abbas' planned bid for statehood recognition at the UN the following month.
The funds, intended for food aid, health care, and infrastructure projects, were supposed to have been transferred within the US financial year, which ends today. The Obama administration is reportedly negotiating with congressional leaders to unlock the aid.
Continues >>