By Rupen Savoulian, Links, May 21, 2012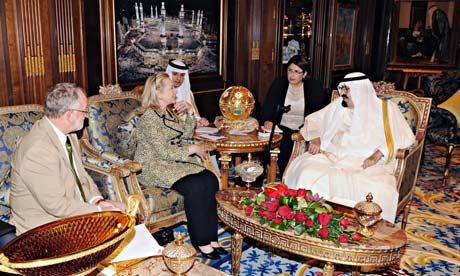 Hillary Clinton (centre) meets King Abdullah of Saudi Arabia (right) in Riyadh to discuss Syria. Photograph: AP.
In April 2012, a number of high-level political officials attended conferences in Paris and Istanbul organised by the Friends of Syria group. US secretary of state Hillary Clinton attended these meetings, and joined the foreign ministers from the NATO powers and Arab Gulf monarchies in denouncing the killings committed by the Syrian regime of Bashar al-Assad.
The Friends of Syria meeting brought about
greater collaboration between the various imperialist countries
and the Syrian rebel forces. One of the main attendees at these meetings, and now major sponsor of the Syrian rebel groups, was Saudi Arabia. Clinton and her Saudi counterpart, Prince Saud al-Faisal, now former French President Sarkozy and Turkish Prime Minister Erdogan all expressed their commitment to "democracy" and vowed to do all they could to topple the Ba'athist dictatorship in Damascus. Saudi Arabia, and its Gulf ally Qatar have led the charge to arm and finance Syrian rebel forces.
It is worthwhile to take a closer look at the history of cooperation between the imperialist powers and Saudi Arabia. Claims by Clinton, Sarkozy and Erdogan that democracy is uppermost in their minds are absolutely ludicrous. Last year, Amnesty International issued a report on the Saudi Arabian government called
Saudi Arabia: Repression in the name of security
. The report details the many crimes of the Saudi Arabian government, specifically its total repression of political dissent, the imprisonment and torture of dissidents, the repeated crackdowns on freedom of expression, and the broad and sweeping definition of terrorism as a way to suppress a wide variety of political groups.
Continues >>