Anti-corruption campaigner says he will continue to 'fast until death' as campaign inspires millions to stage their own protests
Jason Burke in Delhi, The Guardian, April 7, 2011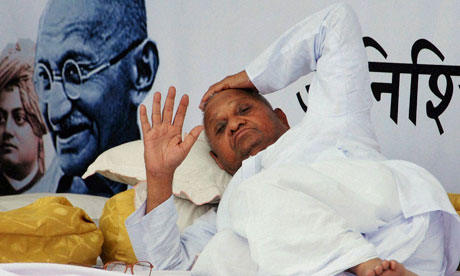 Anna Hazare said he felt a little weak but refused to end his 'fast until death'. Photograph: AP
A 73-year-old Indian anti-corruption campaigner has refused to end his "fast until death" despite government concessions on his demands for a powerful new body to stamp out graft in the country.
Anna Hazare ended his third day of hunger strike on Thursday saying he had lost weight and "felt a little weak" but could continue without food for at least another week.
Hunger strikes – which invoke the memory of those undertaken by Mahatma Gandhi – are popular political tactics in
India
and are frequent features of public life. However, this most recent campaign against corruption has mobilised millions of Indians. Hazare's Facebook page has more than 80,000 friends and supporters mobbed the Jantar Mantar observatory, the site of his hunger strike, in central Delhi on Thursday.
Tens of thousands also joined the protests, ranging from hunger strikes to candlelit vigils in cities around the country including Mumbai, Lucknow and Jaipur. A number of Bollywood stars have also come out in support of Hazare, a former soldier and veteran social activist.
Continues >>
See also,
INDIA: A responsible government will listen to the people