Unicef survey shows almost a quarter of people malnourished in Sindh province six months after floods
Declan Walsh
in Islamabad,
The Guardian
, Jan 27, 2011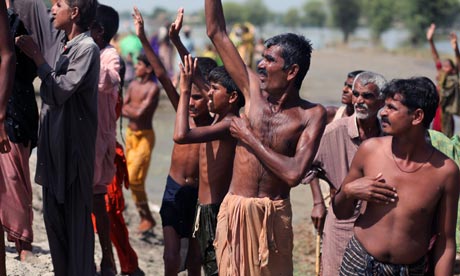 Pakistanis wave to an army helicopter dropping food aid to a village in Sindh after the floods. A survey found 6% of people in the province are severely underfed. Photograph: Declan Walsh for the Guardian
A "humanitarian crisis of epic proportions" is unfolding in flood-hit areas of southern
Pakistan
where malnutrition rates rival those of African countries affected by famine, according to the
United Nations
.
In Sindh province, where some villages are still under water six months after the floods, almost one quarter of people are malnourished while 6% are severely underfed, a Unicef survey has found.
"I haven't seen malnutrition this bad since the worst of the famine in Ethiopia, Darfur and Chad. It's shockingly bad," said Karen Allen, deputy head of Unicef in Pakistan.
The survey reflects the continuing impact of the massive August floods, which affected 20 million people across an area the size of England, sweeping away 2.2m hectares of farmland.
The figures were alarming, Neva Khan, of Oxfam, said.
Continues >>