Obama professor among 250 experts who have signed letter condemning humiliation of alleged WikiLeaks source
Ed Pilkington in New York, The Guardian, April 10, 2011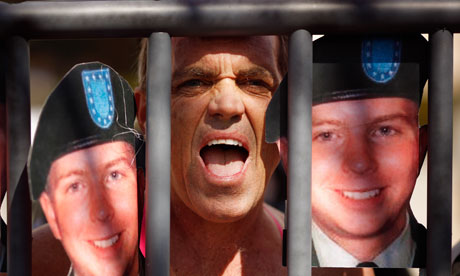 A man protests about the detention of Bradley Manning. More than 250 legal scholars have signed a letter expressing outrage. Photograph: Chip Somodevilla/Getty Images
More than 250 of America's most eminent legal scholars have signed a letter protesting against the treatment in military prison of the alleged
WikiLeaks
source
Bradley Manning
, contesting that his "degrading and inhumane conditions" are illegal, unconstitutional and could even amount to torture.
The list of signatories includes Laurence Tribe, a Harvard professor who is considered to be America's foremost liberal authority on constitutional law. He taught constitutional law to Barack Obama and was a key backer of his 2008 presidential campaign.
Tribe joined the Obama administration last year as a legal adviser in the justice department, a post he held until three months ago.
Continues >>