Report Says 846 Died During Crackdowns
by Jason Ditz, Antiwar.com, April 19, 2011
The Egyptian junta has released a report detailing the violent crackdown against protesters in February, leading up to the ouster of President Hosni Mubarak and his replacement with the current interim military government. The
report says 846 civilians were
killed in the crackdowns.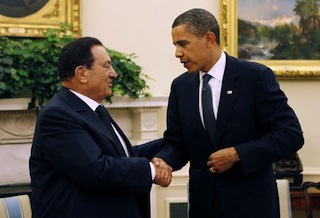 The report said that snipers and police shot protesters with live ammunition, and a disproportionate number were shot in the eyes. Hundreds of protesters also survived but lost their sight in the attacks.
Egyptian Judge Omar Marwan said President
Mubarak was definitely complicit
in the attacks, explaining that the use of live fire on protesters would've required his direct permission. Either that permission was given or Mubarak simply chose not to hold anyone accountable, but the attacks continued for days.
Mubarak
was arrested late last week
as protesters continued to demand he be held accountable for his crimes. The president's sons were also arrested and are accused of being involved in efforts to syphon off government funds into their family's personal accounts.