Bodies lying on the streets of Deraa as residents come under artillery and sniper fire, according to witnesses
Barry Neild
and agencies,
The Guardian
, April 26, 2011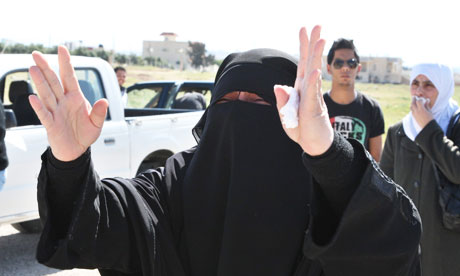 A Syrian woman, who has relatives in Deraa, on the Jordanian side of the border with Syria which has been closed. Photograph: Majed Jaber/Reuters
Fresh gunfire was reported in the Syrian city of Deraa, which has been at the centre of three weeks of unrest, as the government pushed on with a crackdown against pro-democracy protesters, despite growing international condemnation.
Bodies were left lying on the streets of Deraa on Tuesday as residents sought shelter from artillery and sniper fire, witnesses said, a day after
tanks rolled into the city, marking a dramatic escalation in efforts to crush the uprising
.
A resident told the Associated Press that families had been unable to recover the bodies of protesters killed by gunmen loyal to President Bashar al-Assad.
Continues >>